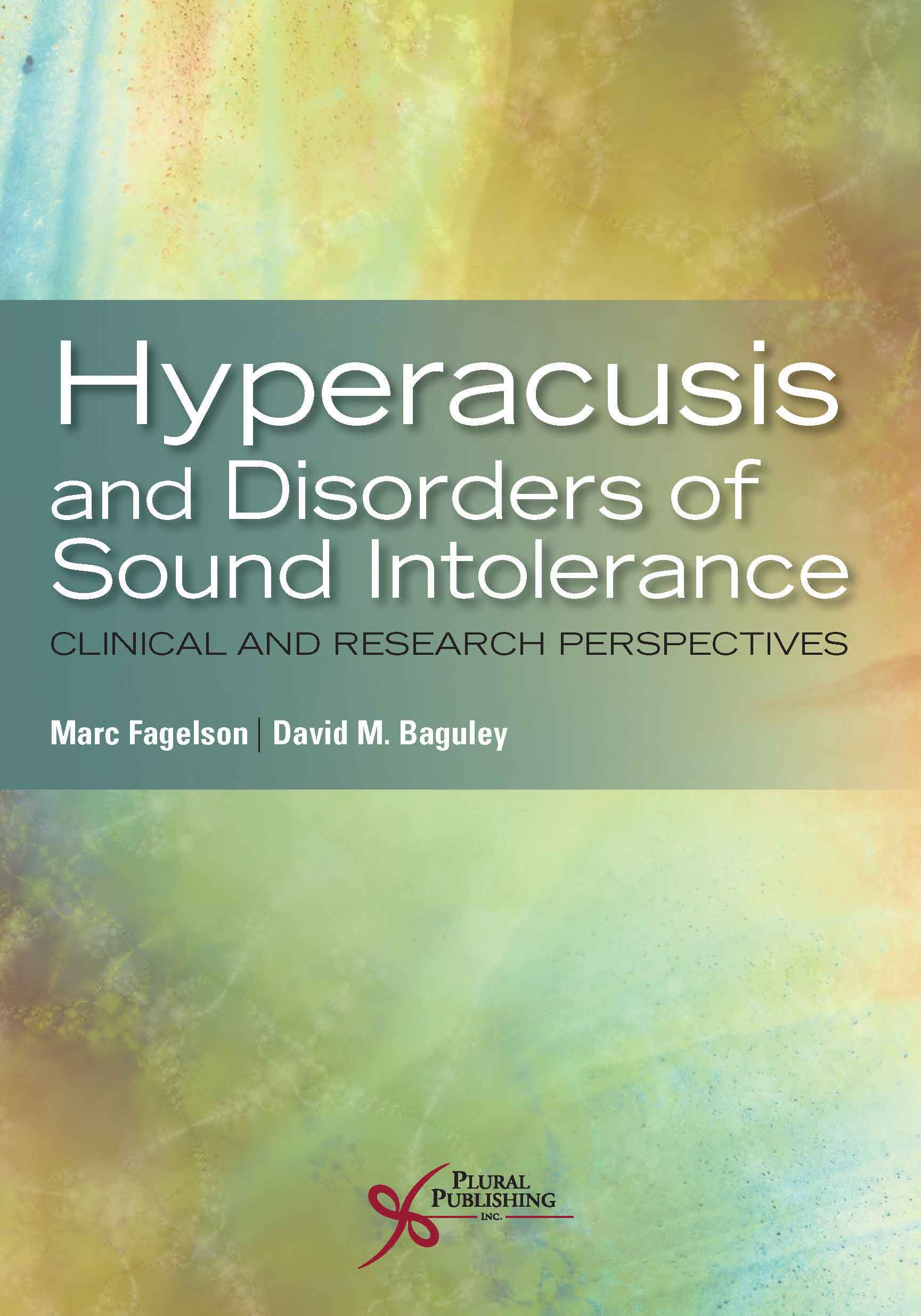 Hyperacusis and Disorders of Sound Intolerance: Clinical and Research Perspectives
First Edition
Marc Fagelson, David M. Baguley
Details: 280 pages, B&W, Softcover, 7" x 10"
ISBN13: 978-1-94488-328-7
© 2018 | Available
Hyperacusis and Disorders of Sound Intolerance: Clinical and Research Perspectivesis a professional resource for audiology practitioners involved in the clinical management of patients who have sound tolerance concerns. The text covers emerging assessment and intervention strategies associated with hyperacusis, disorders of pitch perception, and other unusual processing deficits of the auditory system. In order to illustrate the patients' perspectives and experiences with disorders of auditory processing, cases are included throughout.
This collection of basic science findings, diagnostic strategies and tools, evidence-based clinical research, and case reports provides practitioners with avenues for supporting patient management and coping. It combines new developments in the understanding of auditory mechanisms with the clinical tools developed to manage the effects such disorders exert in daily life. Topics addressed include unusual clinical findings and features that influence a patient's auditory processing such as their perceptual accuracy, recognition abilities, and satisfaction with the perception of sound. Hyperacusis is covered with respect to its effects, its relation to psychological disorders, and its management. Hyperacusis is often linked to trauma or closed head injury, and the text also considers the management of patients with traumatic brain injury as an opportunity to illustrate the effectiveness of interprofessional care in such cases.
Interventions such as cognitive behavioral therapy, desensitization training, and hearing aid use are reported in a way that enhances clinicians' ability to weave such strategies into their own work or into their referral system. Hyperacusis and Disorders of Sound Intolerance illuminates increasingly observed auditory-related disorders that challenge students, clinicians, physicians, and patients. The text elucidates and reinforces audiologists' contributions to polytrauma and interprofessional care teams and provides clear definitions, delineation of mechanisms, and intervention options for auditory disorders.
Note
View the full color images from Chapters 5 and 8 of your text here.
Reviews
"Hyperacusis and Disorders of Sound Intolerance is a more than welcome addition to the field of audiology. Marc Fagelson and David Baguley have developed the only text that addresses these areas and it is a strong contribution.They have provided a comprehensive overview of the literature available and a direction for making clinical decisions with this patient population. In addition to writing chapters, Fagelson and Baguley have amassed internationally recognised experts in hyperacusis and related disorders as contributors. . . . This book provides a robust foundation for evaluating and treating patients with hyperacusis and/or other sound tolerance issues. Drs. Fagelson and Baguley are pioneers in this area and have done an admirable job of creating a valuable resource for audiologists. This book should be considered a standard for a clinical library and will likely end up in university and public libraries. It can serve as a resource for patients seeking information, who, in turn, will drive audiologists to learn more on these topics. The authors note that they "continue to learn what it means for people and their families to live with hyperacusis and other forms of sound intolerance." This book certainly addresses where the profession is in this journey; hopefully by the time that the Second Edition of the text is available, there will be advances in tools to assess and treat this population and advance the understanding of sound tolerance issues. This text is a first great step in addressing those areas."
—Gail Whitelaw, Department of Speech and Hearing Science, Ohio State University, Columbus, OH, USA, in the International Journal of Audiology (August 2018)
"This book highlights the importance of a multidisciplinary approach and discusses the importance in creating clear definitions of each type of DST. The concise chapters of the book make it easy to dip in and out of each subject area. The reader gets a detailed overview of a variety of research areas in manageable chunks. I was especially pleased to read a much wider perspective on hyperacusis and DST and its medical associations with other conditions, such as traumatic brain injury and auditory processing disorder. The emphasis is on a holistic approach to supporting a patient's recovery although there are still bridges to build between other disciplines such as psychology. A key strength of the book was the range of case studies which will remind clinicians of cases they have been involved with. The treatment protocol for fitting wearable devices provides a practical guide for audiologists. There is also discussion on other desensitisation approaches and the importance of counseling. In conclusion, this is a book for professionals who need an update on research into hyperacusis and DST but it also provides a greater depth of understanding around the treatment options for this complex disorder. I enjoyed the book; it sparked my continued interest in this area and I am happy to rate it as a 5/5."
—Alison Flower, Hearing and Balance Therapist, Watsall Healthcare NHS Trust, UK, in ENT & Audiology News, Vol. 27, No. 4 (September/October 2018)
20Q: Update - Perspectives on Hyperacusis
Read David Baguley's interview with Gus Mueller from AudiologyOnline here.
Preface
Contributors
Section I. Definitions, Measurement, and Epidemiology
Chapter 1. Disorders of Sound Tolerance: History and Terminology
Marc Fageslon and David M. Baguley
Chapter 2. Audiological Assessment of Decreased Sound Tolerance
Glynnis A. Tidball and Marc Fagelson
Chapter 3. The Epidemiology and Natural History of Disorders of Loudness Perception
David M. Baguley
Chapter 4. Scales and Questionnaires for Decreased Sound Tolerance
Kathryn Fackrell and Derek J. Hoare
Section II. Mechanisms
Chapter 5. Peripheral Mechanisms of Decreased Sound Tolerance
Roland Schaette
Chapter 6. Tinnitus and Hyperacusis: Relationship, Mechanisms, and Initiating Conditions
Larry E. Roberts, Tanit Ganz Sanchez, and Ian C. Bruce
Chapter 7. Hyperacusis: Medical Diagnoses and Associated Syndromes
Don McFerran
Chapter 8. Animal Models of Hyperacusis and Decreased Sound Tolerance
Jos J. Eggermont
Chapter 9. Traumatic Brain Injury and Auditory Processing
Melissa A. Papesh, Sarah M. Theodoroff, and Frederick J. Gallun
Chapter 10. Psychological Aspects and Management of Hyperacusis
Gerhard Andersson
Section III. Auditory Disorders: Manifestations
Chapter 11. Reflections on the Association between Hyperacusis and Tinnitus
David M. Baguley
Chapter 12. Diplacusis
Marc Fagelson
Section IV. Management
Chapter 13. Increased Sound Sensitivity in Children
Veronica Kennedy, Claire Benton, and Rosie Kentish
Chapter 14. Hearing Aids for Decreased Sound Tolerance and Minimal Hearing Loss: Gain Without Pain
Grant D. Searchfield and Caroline Selvaratnam
Chapter 15. Hyperacusis Management: A Patient's Perspective
Rob Littwin
Chapter 16. Hyperacusis: Past, Present, and Future
Marc Fagelson and David M. Baguley
Index