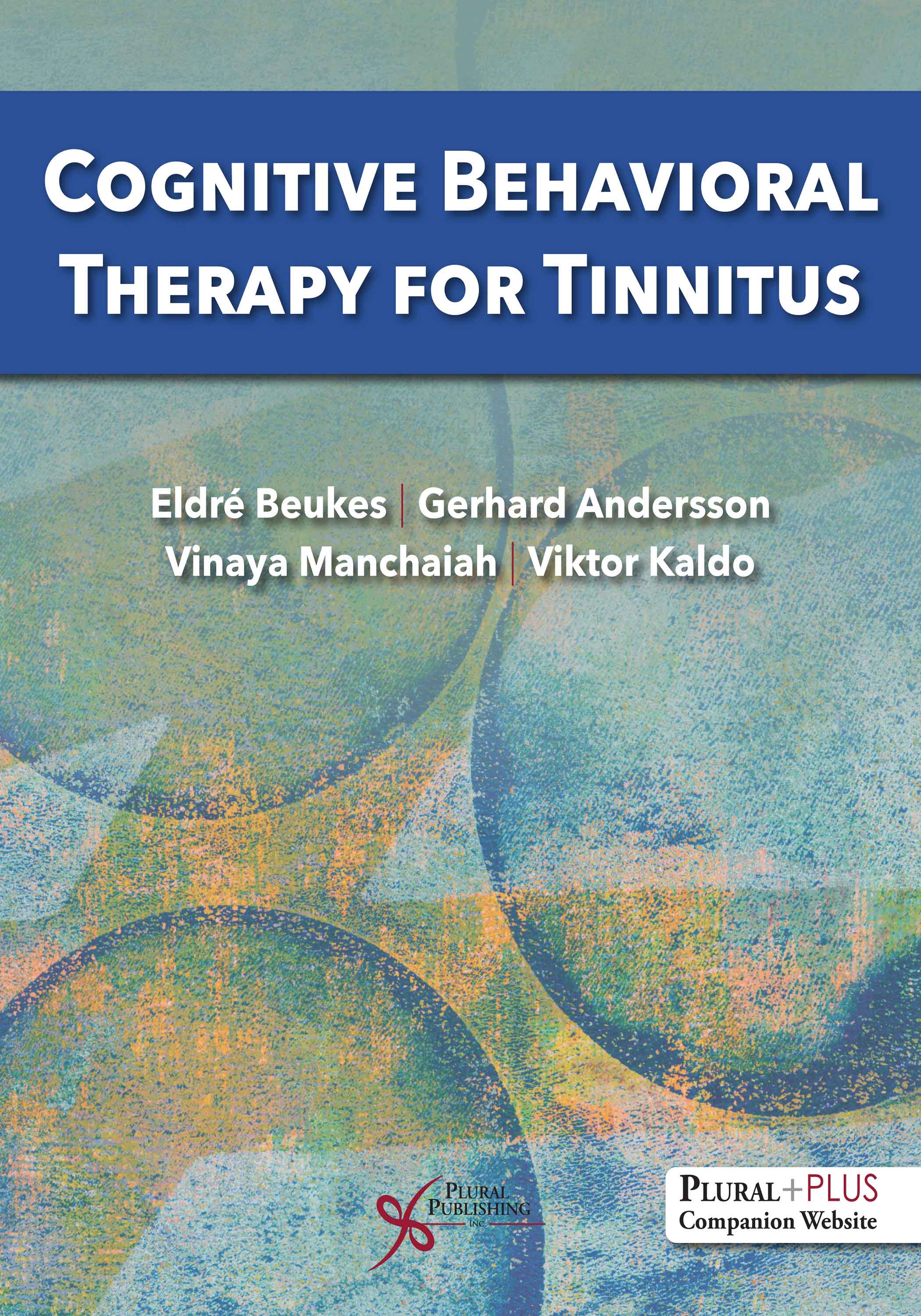 Cognitive Behavioral Therapy for Tinnitus
First Edition
Eldré W. Beukes, Gerhard Andersson, Vinaya Manchaiah, Viktor Kaldo
Details: 256 pages, B&W, Softcover, 8.5" x 11"
ISBN13: 978-1-63550-299-2
© 2021 | Available
For many individuals afflicted with tinnitus, the condition causes substantial distress. While there is no known cure for tinnitus, cognitive behavioral therapy (CBT) can offer an effective strategy for managing the symptoms and side effects of chronic tinnitus. Cognitive Behaviorial Therapy for Tinnitus is the first book to provide comprehensive CBT counseling materials specifically developed for the management of tinnitus.
This valuable professional book has two primary purposes: to provide clinical guidelines for audiologists who are offering CBT-based counseling for tinnitus and to provide self-help materials for individuals with tinnitus. In addition, these materials may be of interest to researchers developing evidence-based therapies for tinnitus.
The book is structured into three sections. Section A provides background information about the theoretical aspects of CBT and some practical tips on how to use this book. Section B provides the CBT counseling, or self-help materials, which can be used by both audiologists and those with tinnitus. Finally, Section C provides some supplementary materials for clinicians that can aid monitoring and engagement of individuals experiencing tinnitus during the course of intervention.
Key Features:
The CBT materials contained in this text have been tested in numerous clinical trials across the globe (Australia, Germany, Sweden, United Kingdom, and the United States) both as self-help book chapters and self-help materials delivered via the Internet.
The counseling materials are presented at minimum reading grade level (U.S. 6th grade level) to maximize reader engagement.
The authors of this book have extensive experience in the management of tinnitus, offering useful insights for clinicians and those with tinnitus.
Access to a PluralPlus companion website with various ancillaries such as expert advice videos for each chapter to facilitate its adoption to clinical practice.
Reviews
"…With the publication of Cognitive Behavioral Therapy for Tinnitus, I can confidently rattle off a title when asked to suggest a book that might help those with tinnitus apply what is sometimes referred to as the gold standard of mental health interventions to their troubling condition…The combined product of hearing researchers and psychologists, the work presents a program that has been evolving for over 35 years, used by thousands of people bothered by tinnitus across the globe, and verified as effective in clinical trials. That 8-week program, which the authors dub "Tackling Tinnitus," is composed of five components: an overview, progressive relaxation, CBT techniques, dealing with the effects of tinnitus, and maintaining the results. The authors provide a week-by-week guide as well as specific practices and exercises to be used during each week, while a companion website offers videos to illustrate and explain the various practices.
In elaborating their program, the authors offer a level of detail and specificity simply not available elsewhere. They don't just describe numerous relaxation practices (including guided imagery, deep breathing, and progressive muscle relaxation) but also offer detailed instructions on how to implement these practices as well as provide worksheets to engage the reader in the process…It is a truly impressive and comprehensive program, and publication of this work is certainly to be celebrated in the tinnitus community. This is the book on CBT and tinnitus many of us have been waiting for…"
–Peter Vernezze, PhD, LMSW, Weber State University, from Tinnitus Today (Spring 2023)
"This text is a boon for the field of audiology, educating to the point of service delivery what CBT is and how to utilize it with patients who suffer from tinnitus.
The authors bring collaboration and expertise to the issue of tinnitus. Dr. Beukes is a clinical researcher in audiology who has received numerous awards, particularly in the field of tinnitus research. Dr. Andersson is a professor of clinical psychology, earned a second PhD in otorhinolaryngology and has worked as a clinical psychologist in audiology on the tinnitus team. Dr. Manchaiah is an esteemed audiologist who is a prolific researcher. Finally, Dr. Kaldo is a professor of clinical psychology who pioneered internet-delivered CBT for tinnitus with Dr. Andersson. These worthy authors are a powerhouse for this topic and demand attention by students and practitioners of audiology and psychology alike. Since it is such a common disorder, it is recommended that both fields become well-versed in treating it.
This textbook is very useful to the practitioner. It gives adequate detail on tinnitus and CBT, giving both theoretical information as well as practical information. In one chapter, the authors explain how prevalent tinnitus is and the relative shortage of trained audiologists or psychologists to deal with it and many of those not knowing CBT or tinnitus, respectively. This chapter then goes on to explain both tinnitus and CBT in enough detail to make it understood by these professions. The rest of the book is devoted to how to tackle tinnitus with CBT. It can be used by the patient themselves, an audiologist, or a psychologist. The book is written in a style that is engaging. It is readable and interesting while being thorough and practical. The companion website has a video for the patient with tinnitus encouraging them whether they are doing it on their own or working with an audiologist. There are also worksheets for most of the chapters that can be given to the patients as they work to improve their reactions to their tinnitus.
This title is practical and beneficial for the practitioners of those suffering from tinnitus. It is a one-stop resource, giving evidence-based research of the effectiveness of CBT for tinnitus and well as explaining the disorder. Most of the book fleshes out how to do CBT in order to reduce the effects of tinnitus on a patient. There is not a text like it in the field and it is a must-have for all audiologists and psychologists working with tinnitus patients."
—Lori J. Newport, AuD, Biola University, in Doody's Book Reviews (June 2021)
"...the authors note that research indicates that audiologists are well places and effective in providing evidenced based CBT to patients with bothersome tinnitus and have developed this book to assist them to provide an eight week evidence-based CBT program for tinnitus. The program they present it flexible in its application either for face-to-face counselling, as supported internet-based program or to facilitate a self-help approach. The program they present is not new, however, they have revised the patient materials to ensure that they are below a U.S. sixth-grade reading level, have incorporated a mindfulness component and provided an extensive information to support audiologists to provide effective and evidence-based tinnitus care.
Cognitive Behavioural Therapy for Tinnitus has been presented in three sections:
Section A provides an introduction to CBT for tinnitus to ensure that clinicians have a solid understanding of CBT and the evidence to support it, as well as an awareness of the flexible means of delivering CBT.
Section B presents the self-help CBT intervention materials that can be provided for patients. The program is divided into five sections; Part one: Overview, Part Two: Relaxation Guide, Part Three: CBT Techniques, Part Four: Dealing with the Effects of Tinnitus and Part Five: Maintaining the Results. Each part provides the patient with an outline of what the chapter covers, an introduction to the topic for the week, the purpose for the recommended therapeutic strategy, how to implement the strategies, an outline of where and how to practices, some suggestions for addressing common difficulties that people experience in implementing and developing these strategies and skills, as well as questions throughout the chapter and worksheets at the end to promote active participant engagement.
Section C provides supplementary material that supports both clinicians delivering CBT and patients undertaking the program.
The information is presented in a straightforward manner, the language is easy to read and the information clearly presented. For clinicians, it provides an excellent resource to off clients an evidence-based tinnitus management program. The tips it provides for sufferers and strategies for addressing commonly encountered difficulties are also very useful for clinicians starting out in this area. […]
This text is a highly valuable resource for any clinician interested in providing tinnitus management."
—Susan Tegg-Quinn, Audiology Now (2021)
"...The textbook does a wonderful job providing some insight into the foundations of CBT, the foundations of CBT as an approach to tinnitus therapy, and provides several opportunities to expand the ability to help manage tinnitus. The textbook focuses on CBT but does provide brief summaries of various other strategies that have some evidence in helping tinnitus sufferers. The author acknowledges CBT appears to be positioned well for the tinnitus sufferer because of the relationship between auditory stimulus and psychological distress. The contents within the book appear directed at the tinnitus sufferer, so as a clinician, this required a shift in my own thought processes – this was a good experience. I appreciated that the textbook acknowledges the goal of most tinnitus sufferers is to eliminate the tinnitus, which is highly unlikely in that there is no one size fits all approach. The authors of the text suggest the use of CBT for tinnitus can improve quality of life. Hearing healthcare professionals (HCPs) should recognize two primary tinnitus managing approaches: sound therapy – targeting the tinnitus percept and addressing reactions to the tinnitus – psychological interventions; often successful management of tinnitus occurs when both strategies are used. ...The authors quickly help the reader (possibly the tinnitus suffer) learn to plan and identify the problems associated with tinnitus and move into acknowledging tinnitus is unlikely to be removed. Early in the textbook, the author is quick to address the schedule and expectations of CBT when used with tinnitus. The HCP or tinnitus sufferer can clearly see the steps and the approach required before proceeding with the therapy – the author acknowledges CBT is a collaborative approach between the clinician and the client. I really appreciated the outline, formula, and directness in learning to accept, live with and attempt to control the tinnitus. In this program, the patient's ownness is on the patient with support from the clinician to set goals and then try to achieve the agreed-upon goals through a collaborative approach. In a patient assessment, any comorbidities or contraindications must be determined – the author provides a nice summary of the various questionnaires that might be included in a tinnitus assessment. The use of the appropriate scales or surveys might help monitor the impact of the tinnitus and treatment or therapy outcomes. A summary table is provided to display the elements of a successful CBT program, which includes all the standard components. However, the table provides a guideline that can give some notion about the time investment and support required for each element. Chapters 4 – 25 are the details of each component of a CBT program for tinnitus. ...The remainder of the textbook walks through the usual components of any tinnitus management program; positive imagery, deep breathing, relaxation, sleep guidelines, and managing thoughts. In each of these chapters, the authors provide an overview, diagrams, charts, and worksheets for the patient, consistent with most routine tinnitus management programs. The design and detail in each chapter should facilitate the initial informational counselling and education for the patient. In terms of particulars, the textbook thoroughly covers relaxation techniques. The options presented were numerous, specific, and detailed – the textbook has provided an extensive number of tools to help with relaxation. ...Another interesting area in the text focused on conscious listening to tinnitus. Conscious listening has been offered as a modality to help acceptance. The "how-to" and "benefits to" listening to tinnitus will allow the reader to tread into this area of acceptance - as noted in the text conscious listening can be a scary experience for the tinnitus sufferer but is thought to provide another step towards gaining control over tinnitus. The sleep guidelines chapter is the final chapter discussed in this review. The textbook provides a simple background on sleep phases and cycles and links this to how sleep can be disrupted and factors that influence sleep. As in all the chapters some helpful hints and guidelines can help the tinnitus client gain control over their lost sleep – there are firm guidelines here to follow. In general, I believe this textbook was a worthwhile read, provided some interesting insight, provided confirmation of current approaches, and some new techniques that might help the tinnitus suffer. I think this textbook could serve as a useful therapy tool, and when coupled with a sound audiological approach, improvements in tinnitus management could be possible."
–Calvin Staples, MSc, Conestoga College, in Canadian Audiologist (November 2021)
"…The first section covers a lot of background about CBT for tinnitus, with a clear summary of the evidence the authors have used to formulate their BCT for tinnitus programme. … The second section … divided into components such as understanding tinnitus, relaxation, responding to negative thoughts, managing sleep problems, etc. Each chapter includes suggested activities to complete and, helpfully, a 'common difficulties' section ...Clinicians who have undertaken training in tinnitus therapy will… find this book really helps them to move onto the next step. …All in all, a very helpful volume by trusted experts, which I hope will play a part in making effective tinnitus therapy more accessible."
–Lucy Handscomb, UCL Ear Institute, in ENT & Audiology News (November/December 2021)

Foreword
Preface
Acknowledgments
About the Authors
Section A. Introduction to CBT for Tinnitus
Chapter 1. Cognitive Behavioral Therapy Principles and Applications
Chapter 2. Cognitive Behavioral Therapy for Tinnitus
Chapter 3. How to Deliver Cognitive Behavioral Therapy for Tinnitus
Section B: CBT Intervention (Self-Help) Materials for Tinnitus
Part I. Overview
Chapter 4. Tackling Tinnitus Program Outline
Chapter 5. Tinnitus Overview
Part II. Relaxation Guide
Chapter 6. Deep Relaxation
Chapter 7. Deep Breathing
Chapter 8. Entire Body Relaxation
Chapter 9. Frequent Relaxation
Chapter 10. Relaxing When Stressed or Upset
Chapter 11. Relaxation Routine
Part III. Cognitive Behavioral Therapy Techniques
Chapter 12. Positive Imagery
Chapter 13. Views of Tinnitus
Chapter 14. Shifting Focus
Chapter 15. Thought Patterns
Chapter 16. Challenging Thoughts
Chapter 17. Being Mindful
Chapter 18. Listening to Tinnitus
Part IV. Dealing With the Effects of Tinnitus
Chapter 19. Sound Enrichment
Chapter 20. Sleep Guidelines
Chapter 21. Improving Focus
Chapter 22. Increasing Sound Tolerance
Chapter 23. Listening Tips
Part V. Maintaining the Results
Chapter 24. Summary
Chapter 25. Future Planning
Section C. Supplementary Materials for Monitoring and Engagement
Chapter 26. Additional Resources
Chapter 27. Pre-Intervention Screening Questionnaire
Chapter 28. Weekly Monitoring
Chapter 29. Providing Guidance
Index