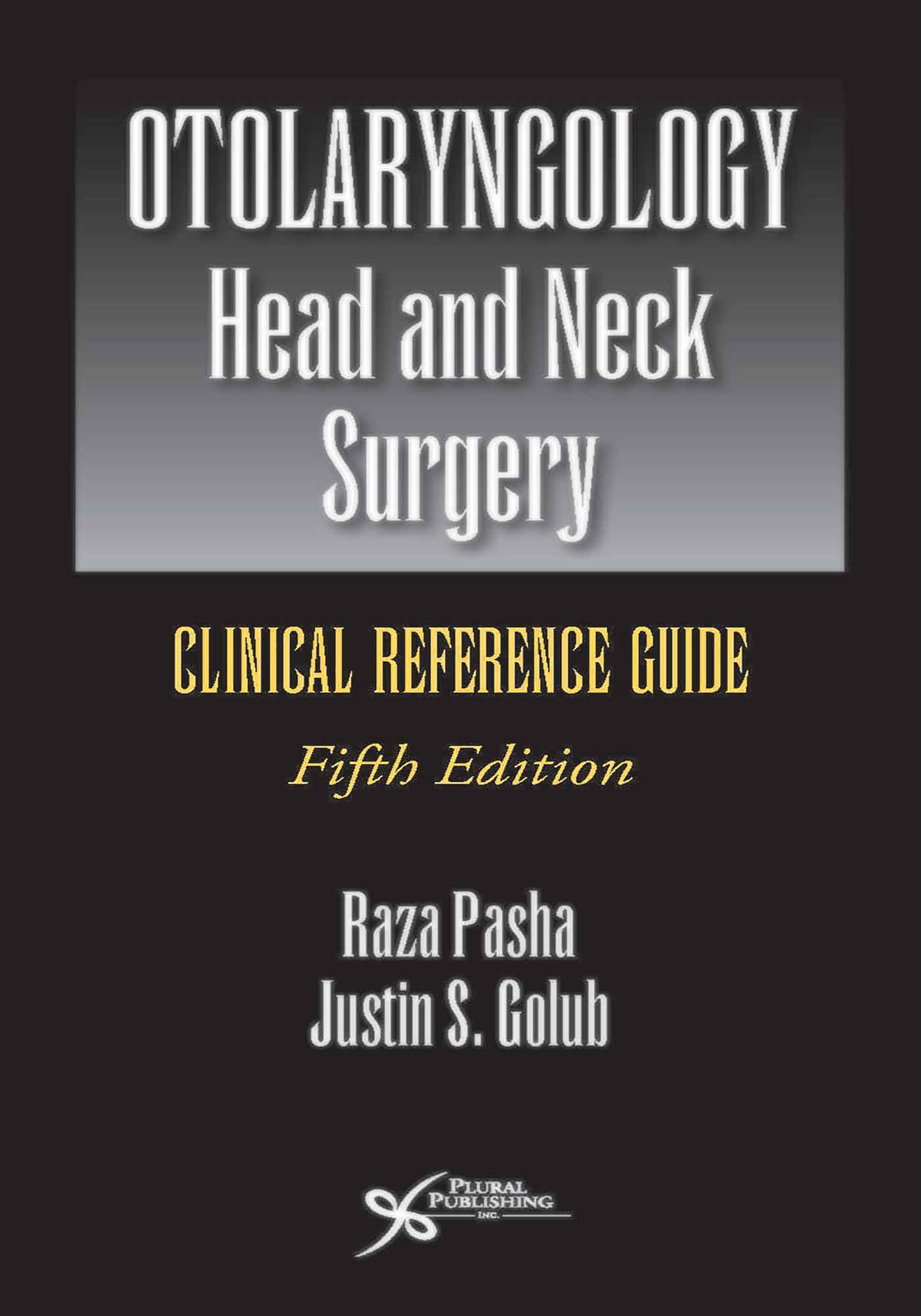 Otolaryngology-Head and Neck Surgery: Clinical Reference Guide
Fifth Edition
Raza Pasha, Justin S. Golub
Details: 762 pages, B&W, Softcover, 4.5" x 8"
ISBN13: 978-1-94488-339-3
© 2018 | Available
The now classic "Pasha" pocket guide -- Otolaryngology-Head and Neck Surgery: Clinical Reference Guide -- returns for its fifth edition. This universally known guidebook concisely reviews rhinology, laryngology, otology, plastic surgery, general otolaryngology, and more. All chapters focus on key pathologies, diagnostic methods, and updated treatment recommendations. Spanning the breadth of the entire field, this "high-yield" book retains a "by residents, for residents" feel while also including expert content useful to accomplished physicians. Medical students, allied health professionals, and otolaryngologists alike will find the fifth edition a valuable resource.
The concise, outline format is useful for rapid reading during urgent clinical situations as well as a last-minute refresher before rounds. The guide has proven essential for board review and maintenance of certification exams as well as a quick source for primary care providers. The fifth edition of this bestselling reference features numerous improvements, including:
Updates of all chapters featuring the latest diagnostic and treatment information
A host of new contributing authors
Coediting by residents and fellows to ensure high-yield, relevant content
A brand-new radiology appendix
Mnemonics to aid memorization
Updated cancer staging
23 new and updated professional illustrations
Reviews
"It is not often that I will laugh out loud reading the Preface to any book, but Dr. Pasha's writing produced just that response. I hasten to add that is because it is so witty, not that there is some howler in the text. The back cover reminds us that this is the fifth edition of what is truly a "classic" pocket book. The predecessors will be familiar to many and available in the departmental library, so the question must be what is new and added value. We are promised numerous "improvements" such as updated chapters, many a new contributor, an appendix on radiology, new illustrations, mnemonics to aid retention and updated cancer staging. The new imaging is nicely presented with concise coverage of normal anatomy, cholesteatoma cleverly compared with healthy temporal bone imaging, MRI imaging of vestibular schwannoma and CTs of sinus disease (into which some nicely labelled neck scans have somehow intruded). The format is the traditional brief notes, bullet points and highlighting that all makes for easier "dipping into" rather than reading cover to cover. This is the last minute revision or ready reference on the ward round rather than the all encompassing textbook. Even then there are notably comprehensive chapters that do "stand alone". Sleep Medicine rates a superb chapter. I finally understand lymphoma subtyping. I am now familiar with the Pindberg Tumour, the Lindeman Procedure, Stickler Syndrome and Rye's Modification of the Luke and Butler Classification (but I forget of what). That level of detail is impressive for what is a "Clinical reference guide". I just know I do somewhere have the 4th Edition, or I did until I loaned it to a grateful trainee, so I have not been able to directly compare, but the impression is indeed that a commendable effort has gone into producing true update."
—Liam Flood, FRCS FRCSI, in the Journal of Laryngology and Otology (September 2017)
"Named to Doody's Core Titles in the Health Sciences - Otolaryngology 2018 list."
—Doody's
"In 11 chapters over 800 pages, Pasha and Golub have once again published an updates, popular and concise handbook sought by trainees all across the globe. Each chapter covers a range of sections from anatomy, physiology and diagnostic to new management details. Head and neck cancer, reconstruction surgery and paediatric otolaryngology has been extensively covered in a systematic manner. There is a new radiology appendix and updated illustrations by a host of new contributors. IT is a true reference guide for early year ENT surgeons spanning important clinical areas with a 'high yield'."
—Shahed Quarishi, Consultant Otolarnygologist, Thyroid & Parathyroid Surgeon, Doncaster, UK in ENT & Audiology News (January/February 2019)
Preface to the Fifth Edition
Preface to the Fourth Edition
Contributors
Common Abbreviations in Otolaryngology-Head and Neck Surgery
Chapter 1. Rhinology and Paranasal Sinuses
Matthew Kim, Qasim Husain, Justin S. Golub, Steven C. Marks, and Raza Pasha
Anatomy of the Nose and Paranasal Sinuses
Physiology of the Nose and Paranasal Sinuses
Evaluation for Nasal Obstruction
Nasal Diseases
Allergy and Rhinitis
Paranasal Sinus Disease
Sinus Surgery
Immunology
Chapter 2. Salivary Glands
Oscar Trujillo, Justin S. Golub, and Raza Pasha
Salivary Gland Anatomy and Physiology
General Salivary Gland Pathology
Benign Salivary Gland Tumors
Salivary Gland Malignancy
Parotidectomy
Chapter 3. Laryngology
Ashley P. O'Connell Ferster, Amanda Hu, James P. Dworkin, Robert J. Meleca, Robert J. Stachler, Justin S. Golub, and Raza Pasha
Laryngeal Anatomy and Physiology
The Hoarse (Dysphonic) Patient
Upper Airway Obstruction
Benign Laryngeal Pathology
Neurogenic and Other Vocal Pathologies
Chapter 4. Otolaryngologic Endocrinology
Jiahui Lin, Kenny F. Lin, Richard Chan Woo Park, Justin S. Golub, and Raza Pasha
Thyroid
Parathyroids
Chapter 5. Sleep Medicine
Raza Pasha, Sarah E. Keesecker, and Justin S. Golub
Sleep Physiology
Polysomnography (PSG)
Sleep-Disordered Breathing (SDB)
Other Sleep-Related Disorders
Chapter 6. General Otolaryngology
Mahmoud I. Awad, Valeria Silva Merea, Robert J. Stachler, Terry Y. Shibuya, Justin S. Golub, and Raza Pasha
Esophageal and Swallowing Disorders
Oral and Oropharyngeal Benign Disorders
Odontogenic, Jaw, and Bone Pathology
Neck Masses
Neck Planes, Spaces, and Infection
Head and Neck Manifestations of Systemic Diseases
Chapter 7. Head and Neck Cancer
Richard Chan Woo Park, Vishad Nabili, George H. Yoo, Justin S. Golub, and Raza Pasha
Cancer Staging Index
Introduction to Head and Neck Cancer
Chemotherapy and Radiation Therapy
Cancer of the Neck
Oral Cancer
Oropharyngeal Cancer
Hypopharyngeal Cancer
Laryngeal Cancer
Nasopharyngeal Cancer
Nasal and Paranasal Cancer
Cutaneous Malignancies
Other Head and Neck Neoplasms
Robotic Surgery
Chapter 8. Otology and Neurotology
Theodore R. McRackan, Jonathan L. Hatch, Matthew L. Carlson, Syed F. Ahsan, Dennis I. Bojrab, Raza Pasha, and Justin S. Golub
Anatomy, Embryology, and Physiology of Hearing and Balance
Audiology and Hearing Devices
Approach to Hearing Loss and Tinnitus
Infections of the Ear and Temporal Bone
Noninfectious Disorders of the Ear and Temporal Bone
Vestibular Pathology
The Facial Nerve
Chapter 9. Reconstructive and Facial Plastic Surgery
Rohan R. Joshi, Qasim Husain, Richard Chan Woo Park, Richard Zoumalan, Joseph F. Goodman, Neil Tanna, Richard L. Arden, Justin S. Golub, and Raza Pasha
Fundamentals of Wound Healing
Head and Neck Reconstructive Flaps
Grafts, Implants, and Expanders
Facial Reconstruction Techniques
Facial Aesthetic Surgery
Rhinoplasty
Otoplasty
Blepharoplasty
Rhytidoplasty (Rhytidectomy, Facelift)
Forehead Lift and Brow Lift
Liposurgery
Complications of Rhytidectomy, Brow Lift, Liposurgery
Chin and Malar Augmentation
Facial Resurfacing
Fillers, Skin Substitutes, and Injections
Surgery for Alopecia
Incision/Excision Planning and Scar Revisions
Chapter 10. Pediatric Otolaryngology
Valerie Cote, Amy Dimachkieh, Jeremy David Prager, Peggy E. Kelley, Christopher R. Grindle, Tulio A. Valdez, and Justin S. Golub
The Pediatric Encounter
General Pediatric Otolaryngology and Pediatric Sleep
Pediatric Rhinology
Pediatric Laryngoesophagology
Pediatric Salivary Glands
Pediatric Otology
Pediatric Syndromes and Congenital Disorders
Pediatric Head and Neck Surgery
Pediatric Reconstructive and Facial Plastic Surgery
Pediatric Head and Neck Trauma
Chapter 11. Head and Neck Trauma
Rohan R. Joshi, Oscar Trujillo, Cody A. Koch, Timothy D. Doerr, Robert H. Mathog, and Raza Pasha
Evaluation of the Head and Neck Trauma Patient
Mandibular Fractures
Maxillary Fractures
Zygomaticomaxillary and Orbital Fractures
Frontal Sinus and Naso-Orbitoethmoid Fractures
Nasal Fractures
Temporal Bone and Otologic Trauma
Penetrating Head and Neck Trauma
Laryngeal Trauma
Soft Tissue Trauma
Appendix A. Cancer Staging Index
Appendix B. Cranial Nerves
Appendix C. Radiology
Stephanie Y. Chen, Anju Dubey, and Gul Moonis
Appendix D. Anesthesia
Raza Pasha and Justin S. Golub
Index