Publication
The Singing Teacher's Guide to Transgender Voices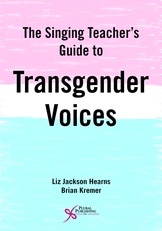 The Singing Teacher's Guide to Transgender Voices
Details:

211 pages, Illustrated (B/W), Softcover, 7 x 10"
ISBN13:

978-1-63550-093-6
Release Date:

05/18/2018
Overview
The Singing Teacher's Guide to Transgender Voices is the first comprehensive resource developed for training transgender and nonbinary singers. This text aids in the development of voice pedagogy tailored to the needs of transgender singers, informed by cultural competence, and bolstered by personal narratives of trans and nonbinary singing students.
The singing life of a transgender or nonbinary student can be overwhelmingly stressful. Because many of the current systems in place for singing education are so firmly anchored in gender binary systems, transgender and gender nonconforming singers are often forced into groups with which they feel they don't belong. Singers in transition are often afraid to reach out for help because the likelihood of finding a voice teacher who is competent in navigating the social, emotional, physical, and physiological challenges of transition is minimal at best.
This text equips teachers with a sympathetic perspective on these unique struggles and with the knowledge and resources needed to guide students to a healthy, joyful, and safe singing life. It challenges professional and academic communities to understand the needs of transgender singers and provide evidence-based voice education and real-world opportunities that are authentic and genuine.
The Singing Teacher's Guide to Transgender Voices is the first book of its kind to provide thorough, organized information on the training of trans singers for educators in both the academic and independent teaching realms.
Foreword by Das Janssen, PhD
Introduction
Acknowledgements
Part I: The Person
Chapter 1. Deconstructing Gender
Chapter 2. Communication
Chapter 3. Voice Classification and Repertoire
Chapter 4. Psychological Perspective: An Interview with Kelly George, Licensed Clinical Professional Counselor and Psychotherapist
Part II: The Voice
Chapter 5. Respiration and Special Considerations for Trans Singers
Chapter 6. Hormone Therapy and Voice
Chapter 7. Pitch and Registration
Chapter 8. Resonance and Articulation
Chapter 9. Voice Health for Transgender Singers
Part III: The Experience
Chapter 10. Trans Singers on Singing
Appendix 1. Sample Student Intake Form
Appendix 2. Transgender Inclusive and Affirming Policies
Appendix 3. Voice Exercises
Index
About The Authors
Liz Jackson Hearns, MM (she/her/they/them) is the owner of The Voice Lab, Inc. in Chicago; Co-Founder of Resonate, Chicago's all-trans chorus; and a voice instructor specializing in trans voice. Singers and voice users from all environments seek out Liz's teaching to illuminate traditional pedagogy with new scientific discoveries and methods in a joyful and creative atmosphere. Liz has been working with transgender and gender nonconforming clients since 2014, helping develop a natural, authentic voice. She also trains fellow voice teachers in cultural and pedagogical competency to work with trans/gnc singers. Liz has a bachelor's degree from the College of Idaho and a Master's Degree from North Park University, and attended the Summer Vocology Institute at the University of Utah.
---
Brian Kremer (he/him) is an assistant professor of Voice and Music Theatre at Elon University as well as a professional singer, actor, and voice instructor. He vocal coaches musical productions and teaches courses in voice, specializing in contemporary singing and performance styles including music theatre, rock, pop, jazz, country, R&B, and Hip-Hop. Mr. Kremer guest teaches and presents on various vocal performance topics, and lectures on the training of transgender singers at universities, conferences, and workshops both nationally and internationally. He received his Bachelor of Fine Arts from Carnegie Mellon University and his Master of Music from Manhattan School of Music. He also maintains Kremer Voice Design, a voice studio providing private vocal instruction. www.kremervoicedesign.com
Related Title