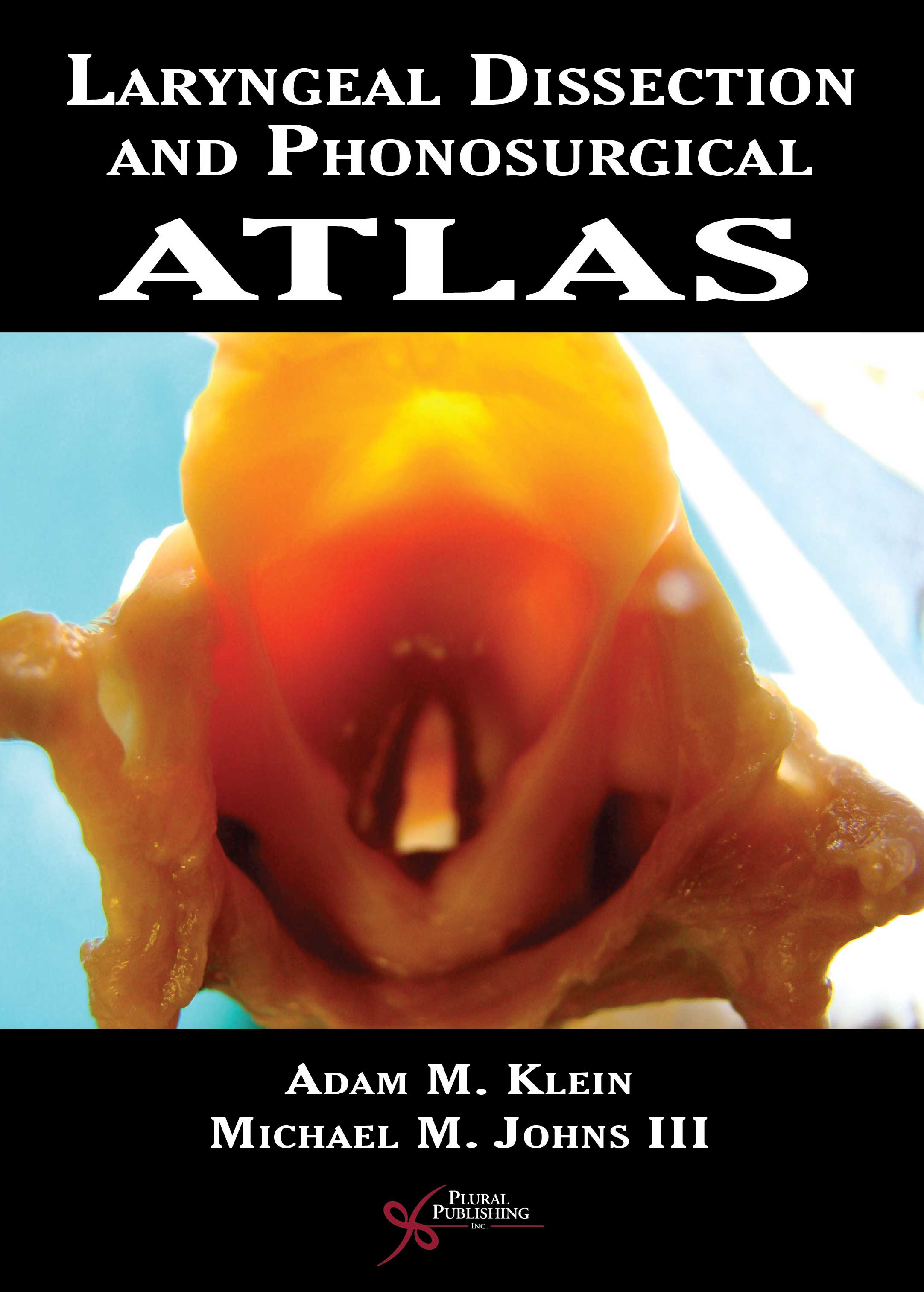 Laryngeal Dissection and Phonosurgical Atlas
First Edition
Adam Klein, Michael M. Johns, III
Details: 81 pages, Full Color, Hardcover, 7" x 10"
ISBN13: 978-1-59756-327-7
© 2009 | Available
This superbly illustrated atlas provides laryngologists with the base skills required to undertake all kinds of laryngeal phonosurgery procedures, prior to testing out one's skill set in the operating room or office on real patients. It guides the reader through the anatomy and physiology of the larynx (as they relate to the procedures) and various office and O.R.-based phonosurgical procedures, using easy-to-follow instructions and labeled photos. As such, otolaryngologists and otolaryngologists-in-training can confidently rely on this new resource to aid in honing their skills in a comfortable and risk-free environment.
Currently, there is no similar book available. Although several phonosurgery books have been published, they focus on the in vivo scenario as opposed to the dissection lab, or in vitro scenario. In producing this atlas, the authors' stated aim is to formalize the training of common and complex phonosurgical procedures, so as to ultimately improve healthcare delivery to patients suffering from voice disorders.
Reviews
"Drs. Klein and Johns have provided a much needed and extremely valuable educational resource in their Laryngeal Dissection & Phonosurgery Procedures Atlas. The authors have done an outstanding job in selecting key subject matter and provided it in a remarkably precise presentation format for individuals aspiring to enhance their skill sets in phonosurgery. Their atlas will certainly be valuable to surgical trainees and those already in practice as well as program directors of Otolaryngology residencies and Laryngeal Surgery fellowships. The eclectic collaboration exemplified by Drs. Klein's and Johns' work in this atlas is especially admirable and will serve as an ongoing educational platform as laryngeal surgical procedures continue to evolve."
Eugene B. Casey, Harvard Medical School
"It is amazingly concise and well-illustrated, with no wasted verbiage at all. It has therefore remarkable clarity and is of value to anyone training in ENT, wishing to specialize in the field, or even experienced practitioners wishing to pick up some useful fine-tuning tips on their laryngeal surgery. Its price puts it in everyone's range also. I wish all surgical operating books were like this."
Martin Birchall, MD (Professor of Larnygology, University College London and Royal National Throat Nose Ear Hospital, London), ENT News (2010)
Foreword by Steven Zeitels
Acknowledgment
Contributors
1. Introduction: Equipment and General Considerations Adam M. Klein, Michael M. Johns, III, Diana Murillo-Omuku, and M. Adriana Pérez-García
2. Head, Neck, and Laryngeal Holding Devices Nicholas Janiszewski, Michael M. Johns, III, György Lichtenberger, Adam M. Klein, Albert L. Merati, Robert Paczona, Anthony A. Rieder, and Robert J. Toohill
3. Basic Anatomy and Physiology Adam M. Klein, Michael M. Johns, III, Diana Murillo-Omuku, and M. Adriana Pérez-García
4. Percutaneous Injection Procedures Michael M. Johns, III and Adam M. Klein
5. Endoscopic Phonomicrosurgery Adam M. Klein and Michael M. Johns, III
6. Type I Thyroplasty Michael M. Johns, III and Adam M. Klein
7. Cricothyroid Subluxation Adam M. Klein
8. Arytenoid Adduction Michael M. Johns, III and Adam M. Klein
9. Adduction Arytenopexy Adam M. Klein and Michael M. Johns, III
Closing Remarks
Index