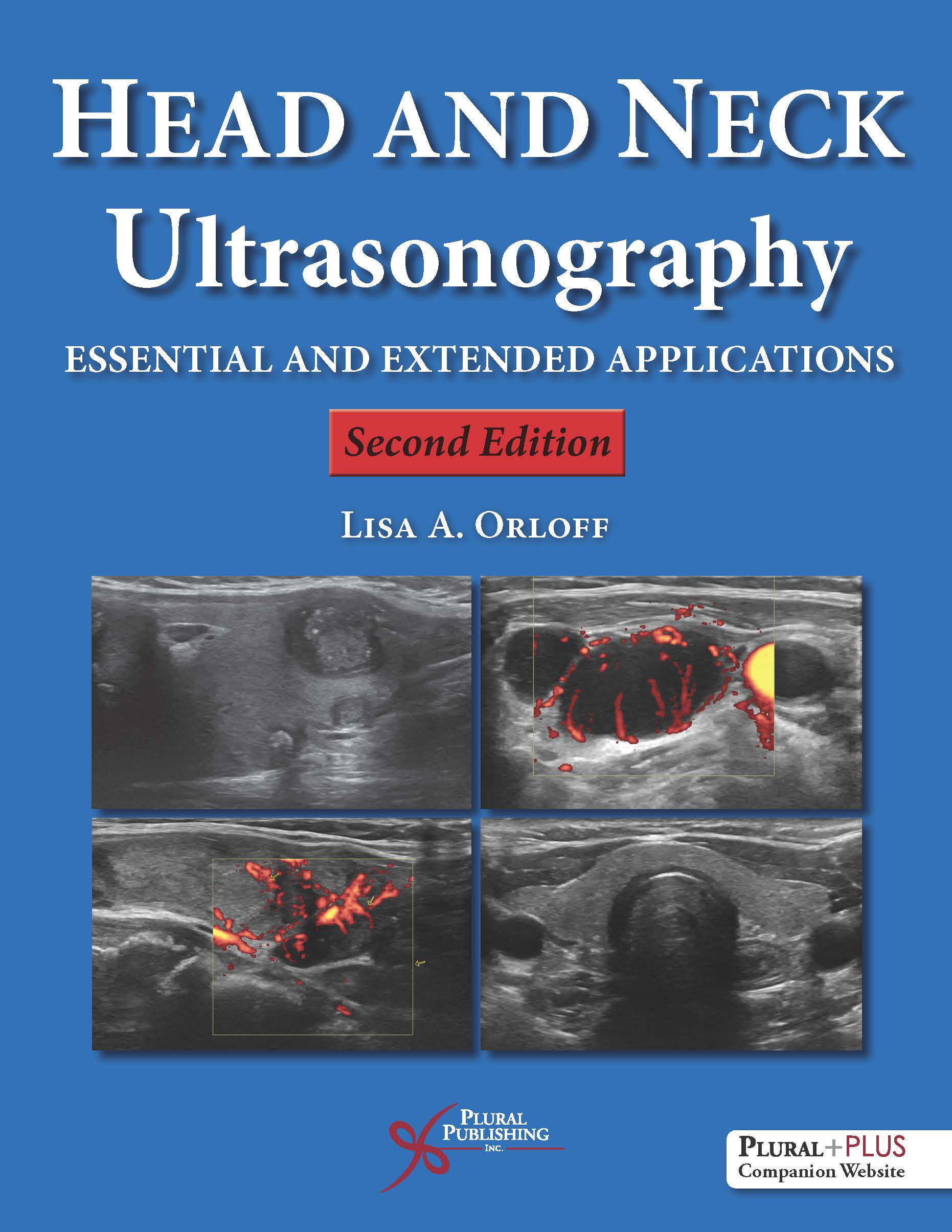 Head and Neck Ultrasonography: Essential and Extended Applications
Second Edition
Lisa A. Orloff
Details: 544 pages, Full Color, Hardcover, 8.5" x 11"
ISBN13: 978-1-59756-858-6
© 2017 | Available
Head and Neck Ultrasonography: Essential and Extended Applications, Second Editionis a comprehensive text of point-of-care ultrasonography for clinicians who manage patients with head and neck disorders. The Second Edition has been revised to bring the reader up to date in expanded applications of real-time ultrasonography for the spectrum of conditions that affect the head and neck region in adults and children alike.
New to the Second Edition
Abundant high-resolution grey scale (B-mode) and color Doppler images throughout
Augmented chapters on thyroid, parathyroid, salivary gland, and interventional ultrasonography
New chapters that focus on ultrasound in airway management, pediatrics, global health, and endobronchial procedures
Special additional chapters on ultrasound documentation, FNA technique, and accreditation
Liberal use of tables that highlight text material
Extensively revised throughout to contain current information, guideline recommendations, reviews, and definitions
A PluralPlus companion website with ample video examples of actual patient examinations
This Second Edition provides new insights, pearls, and practical lessons in ultrasonography for the student of head and neck anatomy, the novice ultrasonographer, and the experienced surgeon or specialist who cares for patients with benign, malignant, or functional disorders of the head and neck.
"Right Trans Thyroid Sonopalpation" video sample from companion website:
Reviews
"Head and Neck Ultrasonography: Essential and Extended Applications (2nd ed) is a comprehensive textbook on office-based and intraoperative head and neck ultrasonography. The second edition has been revised to include up-to-date guideline recommendations and new chapters on ultrasound in airway management, pediatrics, global health, endobronchial procedures, and fine-needle aspiration technique. Dr Lisa Orloff has collaborated with 35 international experts from over 20 institutions across the fields of head and neck surgery, radiology, endocrinology, anesthesiology, neurology, pulmonology, and gastroenterology to create a clinically relevant resource for clinicians who care for patients with head and neck disorders. The book is divided into 21 well-organized chapters written by distinguished specialists with expertise in the given subject and is supported by current and extensive references, including many from otolaryngology journals. Each chapter contains numerous static gray-scale (B-mode) and color Doppler images augmented with supplemental online video clips of actual patient ultrasonography to enhance physician interpretation and performance of ultrasound examinations and procedures. This textbook is intended for clinicians caring for patients with head and neck disease, including otolaryngologists, endocrine surgeons, endocrinologists, radiologists, and pathologists. It will enable practitioners to not only perfect their current use of ultrasonography but also expand their use of ultrasonography to new applications. The chapter on fine-needle biopsy deserves special mention as it successfully distills the subtle nuances of optimal fine-needle aspiration to maximize diagnostic yield."
—Yasmina C. Ahmed, MD, Bronx, New York, USA, in Annals of Otology, Rhinology, and Laryngology, Vol. 126(10) 727 (October 2017)

"This is a substantial textbook, which first appeared in 2008. The second edition adds coverage of such topics as airway management, paediatrics, endobronchial procedures and fine needle aspiration (of which much more anon). The impression is of a surprisingly colourful and well illustrated book, which is remarkable considering the monochrome topic. US does rely on movement, interaction and feedback to the operator, to build up a mental 3D image. Fortunately the countless illustrations are backed with on-line video images. Mind you, an early chapter on emerging advances promises 3D (even 4D) reconstructions, as we have seen in foetal US. There is a multi-author series of chapters covering the basic sciences and normal anatomy, whilst the thyroid obviously dominates the text. For salivary glands and neck masses I increasingly rely on a technology that seemed at a dead end and confined to prenatal checks, just a few decades ago. There are some surprises, with chapters on US of the larynx, the bronchi, the oesophagus, the paranasal sinuses and, especially, the ear where I need some further convincing. Is that Endotracheal tube in the right place? I had not thought of that. Clever. But then comes a series of chapters on interventional US. This is the fun bit. For me, Dr Abele's chapter on "The Science and Art of Optimal Fine Needle Biopsy and Smear Making" made for a marvellous 30 pages, which I have now read three times. Every time I do so, I realise where and in how many ways I have been doing this...if not wrongly, then without that "Art" he describes, at the very least. Use an IV extension tubing, touch the needle on the slide, use a smaller needle (however counterintuitive), try the "snap technique". If I never pick up an US probe in my latter years, this advice has altered my practice. Vascular US, Power Doppler, IV contrast, Shear Wave Elastography will remain the province of the radiologists, but there is so much in this book to appeal to any head and neck oncologist, to the endocrine surgeon, or our vascular fraternity. But it was Chapter 16 that "did it for me" and I almost look forward to my next "Two Week Wait" clinic, even I do lack the US machine, let alone the skill to exploit it, to then guide my needle. There is a real need for a book such as this, to inspire the next generation to develop the skills to perform clinic US, if only at a basic level."
—Liam Flood, FRCS FRCSI, Middlesbrough UK, in the Journal of Laryngology & Otology (2017)
"This is an exceptional book on head and neck ultrasonography. It succeeds as a practical resource that will enable practitioners to expand their usage of ultrasonography to new areas and maximize their current use."
—John David Cramer, MD, Northwestern University Feinberg School of Medicine, in Doody's (June 2017)
"This is a very well-written and much-needed second edition to the original book. The author focuses on the head and neck ultrasonography from an ENT surgeon's perspective. The text is very reader-friendly. The book focuses on the basic and extended applications of the ultrasound for the head and neck surgeon and radiographer. There are lots of pearls from the personal experience of the authors. The book is aimed at senior trainee head and neck surgeons who practise ultrasonography, as well as established head and neck surgeons, introducing them to the advanced applications of ultrasound."
—Asad Qayyum, Consultant ENT Surgeon, Peterborough City Hospital, Cambridgeshire, UK in ENT & Audiology News (January/February 2019)
Preface
Acknowledgments
Contributors
Chapter 1. The History of Head and Neck Ultrasonography
William B. Armstrong and Yarah M. Haidar
Chapter 2. Essential Physics of Ultrasound
Marc D. Coltrera
Chapter 3. Ultrasound Equipment, Techniques, and Advances
Kevin T. Brumund
Chapter 4. Normal Head and Neck Ultrasound Anatomy
Russell B. Smith and Lisa A. Orloff
Chapter 5. Thyroid Ultrasonography
Jennifer A. Sipos and Lisa A. Orloff
Chapter 6. Parathyroid Ultrasonography
Maisie Shindo
Chapter 7. Salivary Gland Ultrasonography
Peter Jecker, Urban W. Geisthoff, Jens E. Meyer, and Lisa A. Orloff
Chapter 8. Ultrasonography of Neck Masses
Hans J. Welkoborsky
Chapter 9. Laryngeal Ultrasonography
Timothy J. Beale, Lisa A. Orloff, and John S. Rubin
Chapter 10. Transesophageal Endosonography
Michael Mello and Thomas J. Savides
Chapter 11. Endobronchial Ultrasound
Mihir S. Parikh and Ganesh Krishna
Chapter 12. Airway Ultrasonography and Its Clinical Application to Airway Management
Lena Scotto, Lynn Cintron, Fredrick G. Mihm, and Vladimir Nekhendzy
Chapter 13. Head and Neck Ultrasound in the Pediatric Population
Veronica J. Rooks and Benjamin B. Cable
Chapter 14. Ultrasonography of the Face, Paranasal Sinuses, and Ear
Peter Jecker
Chapter 15. Interventional Ultrasonography
Vinay T. Fernandes and Lisa A. Orloff
Chapter 16. The Science and Art of Optimal Fine Needle Biopsy and Smear Making
John Stephen Abele
Chapter 17. Office-Based Ultrasonography: Documentation and Reporting
Ilya Likhterov, Meghan E. Rowe, and Mark L. Urken
Chapter 18. Vascular Ultrasound, Carotid, and Transcranial Doppler Imaging
Tatjana Rundek, Marialaura Simonetto, Nelly Campo, and Digna E. Cabral
Chapter 19. Ultrasound Surveillance of the Neck in Head and Neck Cancer
Michiel W.M. van den Brekel and Jonas A. Castelijns

Chapter 20. Head and Neck Ultrasonography in Global Health
Merry E. Sebelik
Chapter 21. Head and Neck Ultrasound: Certification and Accreditation
Lisa A. Orloff
Index
Purchasers of this book receive complimentary access to supplementary materials hosted on a PluralPlus companion website.
Materials:

To access the materials, log in to the website using the URL and Access Code located inside the front cover of your copy of Head and Neck Ultrasonography, Second Edition.