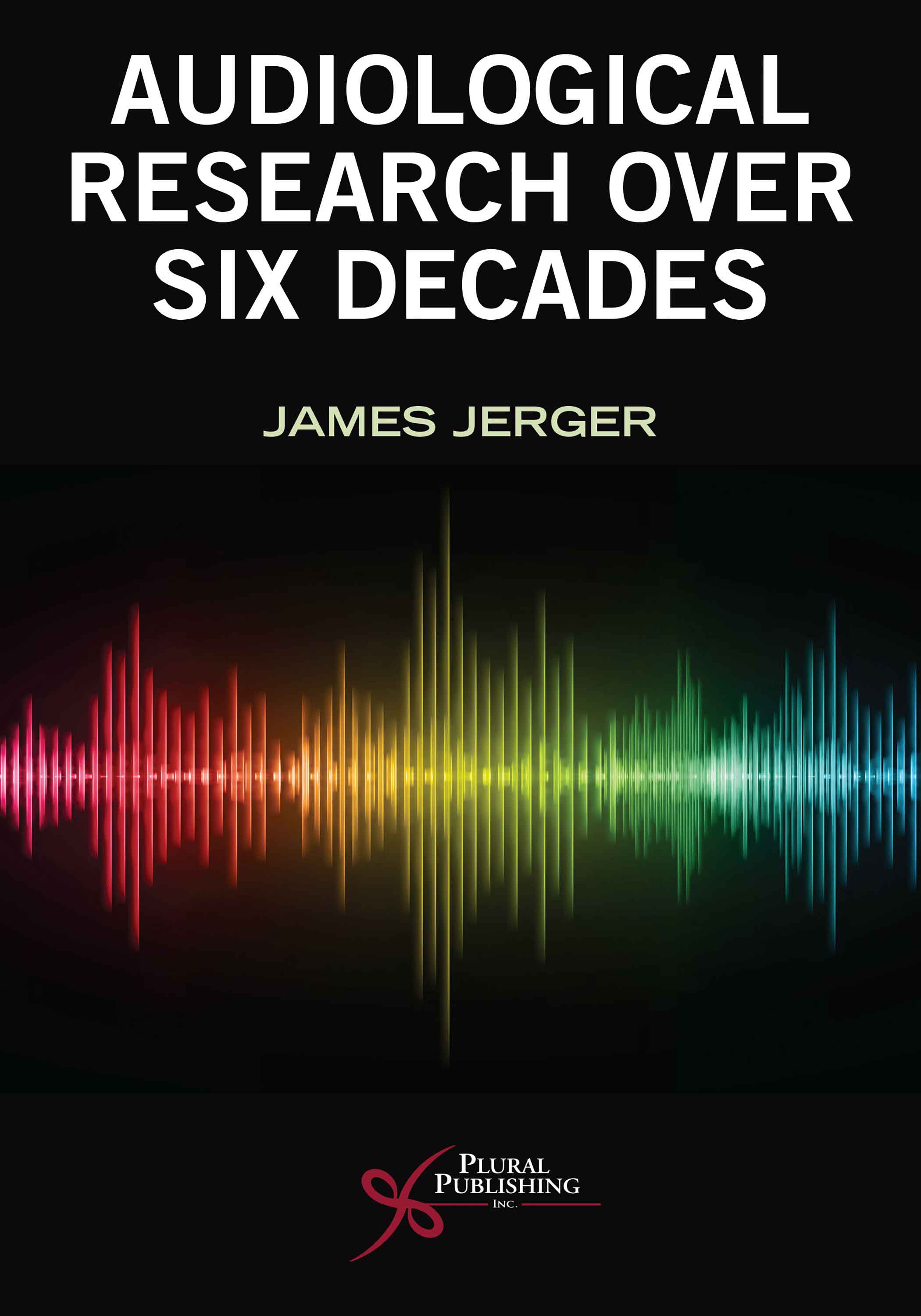 Audiological Research Over Six Decades
First Edition
James Jerger
Details: 195 pages, B&W, Softcover, 6" x 9"
ISBN13: 978-1-63550-370-8
© 2022 | Available
As a pioneer in the field of audiology, Dr. James Jerger has been involved in cutting-edge resource throughout the development of the field. In his new text, Audiological Research Over Six Decades, readers can experience the evolution of diagnostic audiology through his unique perspective. By detailing case studies from his own work over the years, Dr. Jerger gives his audience a chance to be a fly on the wall for major moments throughout the history of audiology.
In the first section of the book, Dr. Jerger relates case studies and other stories from his early years in the field, including his time at both Northwestern University and the Houston Speech and Hearing Center. Then, he traces his years at Baylor College of Medicine. In the final section, he discusses his time researching auditory event-related potentials at the University of Texas.
From the Foreword by Brad A. Stach, PhD
"This book is an adventure. It tells the story of the evolution of diagnostic audiology through the voice of one of its greatest contributors, Dr. James Jerger… Jerger's lively narrative describes, in his wise and witty way, what he was thinking throughout six productive decades of game-changing audiological research. He provides us with a view, through case studies of his own work, of an unparalleled perspective, from the room where it happened."
Review
"…Audiological Research Over Six Decades provides us with a historical glimpse into how the research was performed, and its evolution, and in some cases, its return to the olden days. … Throughout the book, research is combined with anecdotal experiences that provide the reader with wonderful stories that either contributed to audiological research, or allow the reader to be just a fly on the wall, such as being in the taxi as a young Dr. Jerger shared a cab ride with Dr. von Bekesy. The book is divided up into ten chapters, spanning 60 years. The first chapter, "The Early Years" describes a foray into "site of lesion" testing – something crucial in the 1950s – to attempt to distinguish between brainstem pathologies and those in the temporal lobe…
Subsequent chapters deal with the history and early research behind immittance testing and how Dr. Jerger's career comes into focus in a chapter on 'Binaural hearing aids.' …Other chapters deal with age and gender issues and, of course, auditory event-related potentials. Throughout each of the chapters, Dr. Jerger's own musings and unexpected meetings with many of the great research pioneers of our field paint a vivid picture of audiology over the past half-century. ...This is a book that I will not lend out to any friends, nor is this a book that will gather dust on my bookshelf. It is a must "re-read" for anyone interested in the history and the development of audiology as a profession."
–Marshall Chasin, AuD, Musicians' Clinics of Canada, in CanadianAudiologist (December 2021)
"This is Dr James Jerger's – one of the greatest – legacy of the vast contributions to the field of diagnostic audiology assessment throughout his career in a historical overview format. This is a concise and one-of-a-kind book, written without technicalities and in a lively narrative manner, that every audiology diagnostician should own. An accessible and synthetized chapter arrangement allows the reader to audiologically travel through time from the 50s onwards, in Jerger's boots, and to assimilate how thinking in the profession evolved over the years. It provides you with the thinking behind a researcher and author of his caliber through his own work from his early career years at both Northwestern University and the Houston Speech and Hearing Center, through to his years at Baylor College of Medicine and further into his research of auditory. Event-related potentials at the University of Texas. A must-have and an eye-opener if you want clarify on why we currently do what we do in our field and an understanding of the evolution of diagnostic audiology. Audiology/otology students can greatly benefit from Dr Jerger's journey and stimulate research. Current and seasoned audiologists/otologists will undoubtedly find this book as an inspiration and, in many ways, an answer to the questions, 'how did we get here today?' and 'why do we employ our current diagnostic tests?'."
–Raúl Garcia-Medina, Founder and CEO, The Audiology Clinic, UK, in ENT & Audiology News (March/April 2022)
Foreword by Brad A, Stach
Introduction
Acknowledgements
Abbreviations
Chapter 1. The Early Years
A Diagnostic Challenge
Professor Doctor Eberhart Lüscher
The Quantal Psychophysical Method
The SISI Test
Abnormal Auditory Adaptation
The Békésy Audiogram
Speech Audiometry
Synthetic Sentence Identification (SSI)
Brainstem Versus Temporal Lobe
Related Readings
Chapter 2. Immittance Audiometry
The Tympanogram
The Stapedius Muscle Reflex
Reflex Averaging
Other Reflex Oddities
An Educational Adventure
Related Readings
Chapter 3. Auditory Processing Disorder
The Birth of APD
The Italian Pioneers
Early Efforts in the U.S.
The Other Side of the Coin
An Account of an Interesting Patient
Medical Report
Neuropsychological Examination
Audiological Examination
Related Readings
Chapter 4. A Once in a Lifetime Opportunity
An Important Point
History and Medical Findings
First Admission
Second Admission
Basic Testing
Basic Audiometry
Some Psychoacoustic Measures
Auditory Localization in Space
Final Thoughts
Related Reading
Chapter 5. Binaural Hearing Aids
An Early Study
But Is the Group Representative of Everyone in It?
Binaural Interference
A Very Intact Nonagenerian
Can We Explain AK's Findings by Invoking a Relevant Cognitive Deficit?
A Possible Explanation
Related Readings
Chapter 6. Cued Listening
Group Results
Three Illustrative Individual Patients
Last Thoughts
Related Readings
Chapter 7. Aging and Gender Effects
Can Speech Understanding Problems in Elderly Persons Be Explained by the Audiogram?
Auditory Processing Disorder and Dichotic Listening
Auditory Processing Disorder Versus Cognitive Decline
A Longitudinal Case Study
Some Gender Differences
Another Gender Effect — The Shape of the Audiogram
Overview
Related Readings
Chapter 8. Auditory Event-Related Potentials to Words
Waveforms
The Importance of Forcing a Decision
The Framework of an Auditory Event-Related Potential Procedure (AERP)
The Late Positive Component (LPC)
The Right Ear Advantage
But What About the Nontarget Words?
Processing Negativity (PN)
Repeating Words Back Versus Making Decisions About Them
More PN Examples
A Case of Multiple Sclerosis
A Clarification
Final Thoughts
Related Reading
Chapter 9. A Twin Study
Basic Audiometry
Behavioral Psychoacoustic Measures of Auditory Processing
Standardized Cognitive/ Linguistic Evaluations
Activation Patterns
Dichotic Listening
Diffusion Tensor Imaging
Related Readings
Chapter 10. Odds and Ends
A Visit to Montreal
"Normal Audiometric Findings"
Simian Surgery
A Researcher's Dream
A Voice From the Past
A Herculean Effort
Finis
Related Readings
Index